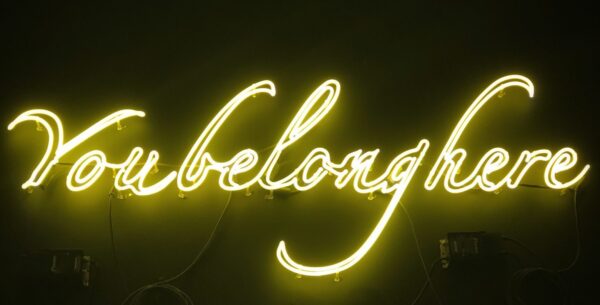 You Get To Choose Your Customers
August 10, 2020
10 Things I Wish I Knew Before Stepping Into Online Learning
August 27, 2020
Because there is more said than done in the name of networking, let's try some new thinking.
Let's come at this from communication and humanity mindset, instead of sales.  If you do one thing today that will change your life and career, form a different relationship with the whole of networking.  
Networking is Energy
When you see networking as a constant, like energy, then you can release the earlier, unproductive thinking that it has to do with sales, manipulation, and sucking the life out of others.
Energy is always there. As the law of thermodynamics states: Energy can neither be created nor destroyed; energy can only be transferred or changed from one form to another.
This energy is always there, at our disposal, but we can close it off.  When we think networking is optional instead of constant, we block off all possibilities of receiving benefits of others understanding who you are and your reasons for living.   We can also choose to change how we think and let go of painful misperceptions of networking.
Networking Dials In Others To Your Natural State
Try keeping it so simple that it's difficult to argue, even with your own head trash or fears.  Boil down everything you've read and experienced when you think of networking and notice there are three things everyone wants to know about you.  It's the same three things you want to know about everyone you meet.   Are you a giver, taker or matcher?
Here's two excellent explanations for this I've found and it's worth a quick look if this is new to you.
Givers, Takers, and Matchers: The Surprising Psychology of Success—comes from BrainPickings, consistently ranked in the top five blogs of my day since 2006.
The other source of energy that will change you is Give and Take: A Revolutionary Approach to Success by Adam Grant, 2013.    Seth Godin calls it "Well-researched, generous, actionable and important. Adam Grant has given us a gift, a hard-hitting book about the efficacy of connection and generosity in everything we do."
No More Reaching Out.
Networking Is About Others Finding You.
Your life and your results change immensely when you realize the core of networking is that endless energy about your thinking and deciding.   Here's the electrifying truth.  You are just one thought away from flipping the switch from negative to positive energy.
Constantly, even when sleeping, you have the power to redial your thinking with deciding who you are and what you want others to know about your uniqueness and style.  Are you a giver, taker or matcher?  You can't put on sheep's clothing on this.  It goes clean to the bone.   The great news is you can change to Giver if you are done with, exhausted by Taker and Matcher phases of your life.
That whole "reaching out to you" conversation is exhausting and comes from a Taker.  It drains your energy and theirs.  It's what gives networking a bad taste.
Networking Déjà Vu
We've had this little chat before and I invite you to lean forward and drink of this wisdom again.
On July 2, we looked at networking as the skill that pays the bills and now we see it's more important.
Earlier works and articles using the term networking tend to limit thinking to sales functions and getting what you want out of life.   It seemed to emphasize getting a sale, getting a job, getting an introduction, and getting ahead.   That view was about me, me, me and missed the point of why we need relationships, all of the time, with everyone's life we touch, physically or at a distance, with masks, or remotely with technology.
Business Networking Now and After This Pandemic
Did you know that you do not have one network? You have four.  Did you know that those four networks are running in the background of your life and your business, all of the time?
There's a strategic difference in these networks and one reason you may have experienced "networking is not for me" is you confused yourself and someone else about the nature of your relationship.  You lost them in the wrong network.
Everyone has Four Nets: LifeNet, ProNet, WorkNet, and OrgNet.  Learn about them and the new face of networking in a collaborative world in Strategic Connections, by Baber, Waymon, Alphonso and Wild.  First published in 2015, this book has become even more relevant and more valuable in a world of social distancing.
This is not our last pandemic and massive shifts in business and living are moving forward, not backward. 
Lynne Waymon helped me think about networking for right now.  She said, "You and your clients are steering organizations through unprecedented conditions – volatility, uncertainty, complexity and ambiguity. Your peers in large corporations, small and medium enterprises, not-for-profits, and government agencies tell us they need:
– Collaboration – breaking down silos and working across boundaries
– More innovation
– A more competitive workforce
– Agility
– To make business development everybody's business
– Engagement
– To keep the best people
– Higher productivity
– To get people behind organizational goals and initiatives
– More strategic connections, partnerships, and alliances
Any of these challenges can be addressed by developing a NETWORK-ORIENTED WORKFORCE™. In The NOW, your people will apply discretionary effort to exchange information, resources, support, and access. As a NOW, they will intentionally create new value with others inside and outside the organization. They will skillfully create purposeful connections, meaningful conversations, and effective collaborations."
The Pandemic Accelerated the Future of Networking
Networking is not sales.  You are in for a world of hurt, anger, then resentment if you ask for sales, referrals or anything before investing time, across many months in building trust, credibility and a relationship with individuals.   One at a time.  Each person is unique. Each one belongs in one of your four networks.  The world of mass media, also known as mass irritation, went away in 1985.  Technology advance to individually-addressable, totally unique connections back then and it's rapidly advanced to mixed reality (MR) technology today.
Before the pandemic, there was a forecast for Global Mixed Reality Market 2020-2025.
As fast as you can say Zoom and virtual learning, that forecast slammed into fast forward.
Dr. Ivan Misner, the Founder & Chief Visionary Officer of BNI (Business Network International) said, "According to some experts, Mixed Reality (MR) technology will be as commonplace as the iPhone in five years to ten years. As that happens, you're going to see more business networking taking place through some sort of MR format, which will globalize the marketplace."
We love to mingle with people, hug and look people in the eyes.  We are seeing more and more that virtual can work and networking comes in as many forms as conversations.
Here's why.  Networking is about cultivating and harvesting relationships with people. It's about relating, not transacting business.
Your Thinking Partner in Business Networking
"In this together" has taking on bigger and intensely practical meanings.  We are in an environment where staying connected – for informational, planning and emotional reasons – is more important than ever.
For more than 30 years the Stay Connected message has been on our website and in our approach to everyone.   Lately, I'm seeing the massive misunderstanding and struggle others are having with their own networking identity.   For us it was never about marketing.  It is about the reality that many brilliant people helped me get all I have and that's what I do for others.
The guidance and help we are glad to provide to leaders of professions and credentials is that of your thinking partner in business networking.
What was the biggest life lesson we learned after discovering all Four Nets and the individuals in each of those nets?  We learned that you never know who you'll meet on the bridge coming back the other way.
It's a good idea to not burn bridges.